Sunny outlook over historical Berlin: the broad southern façade of the building at Werderscher Markt.
Residential & Commercial Property 7/8
This residential and commercial property, designed by the architects nps tchoban voss, is sited at a prime location on Werdersche Markt, directly adjacent to the Foreign Ministry with views towards Gendarmenmarkt and Hausvogteiplatz. It is characterised by clear, modern lines softened with an easy elegance by the rounded balconies at the corners of the building. The façades are composed with light natural stone and plaster combined with window surrounds and cornices. Wide glass fronts create transparency and openness.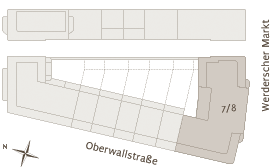 Two penthouse maisonette apartments measuring 234 and 356 sqm are still available in this building.
The ground floor can accommodate up to three units of attractive space for business premises, shops or galleries. The first and alternatively also the second and third floor offer available space for office use, which can be flexibly split into individual spaces or be used as one large area. Accordingly to the alternatives a total of 9 or 18 freehold flats are arranged throughout the four uppermost storeys and the penthouse level, which accommodates the spacious penthouse apartment with rooftop terrace and pool.

Number 7/8, a seven-storey building for both residential and commercial use, flanks Werderscher Markt along its broad southern façade and along its shorter sides faces onto Falkoniergasse and Oberwallstraße, where the vehicle access into the Crown Princes' Gardens' underground garage is also located. On the courtyard side the building opens onto a garden with a playground, to which all residents have access via Falkoniergasse.
Facts and figures
• natural stone and plasterwork façade with
generously proportioned windows, plus decorative
window surrounds and cornicing
• 9 or 18 freehold apartments of 70 sqm to 454 sqm
• up to 3 commercial units on the ground floor and
flexible office units on the first to third floors
• central entrance with two separate ways up within
the building, children's playground (accessed from Falkoniergasse)
• penthouse apartment with open fireplace, rooftop
terrace and pool
• all apartments have balconies and/or terraces,
wall coverings and stucco cornicing in some rooms
• flexible layouts, spacious rooms with
wooden/aluminium French windows
• parquet floors in rooms and halls, underfloor
heating
• building automation system
• 40 assigned car parking bays in the two-level
underground garage
• easy parking thanks to extra large bays
• KfW Efficiency House 70 (energy-plus building),
connected to district heating supply
• Demand-oriented energy pass: total energy
demand residential 67 kWh/(m²a) and commercial
13 kWh/(m²a), district heating (temporary data)
• cooling system and controlled ventilation with
thermal energy recovery
• capacity to cut out electric smog in
sleeping areas
• video intercom system
• added burglary protection provided by resistance
class 2 (WK 2) and class 3 (WK 3) in the relevant
areas
• burglar alarm, smoke/fire detectors
• Falkoniergasse closed at night with access then
for residents only
• Quality assurance: The entire construction phase
will be monitored by quality assurance experts.
They are set to perform a series of tests and
measurements, including ambient air
measurements, blower-door tests, thermal image
testing of the façades and sound insulation
measurements.