With its modern architecture, House 11 excudes a distinctive accent.
Residence 11
On the quieter rear edge of Crown Princes' Gardens, located in Werdersche Rosenstraße, this seven-storey residential house designed by nps tchoban voss features a modern, clear, architectural language. Comprised of light natural stone, the elegant effortlessness of this façade is due to its curved lines and expansive glass fronts.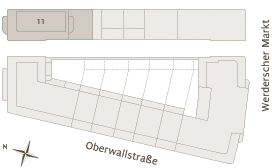 100% sold
Four or six elegant large-spaced freehold flat units facilitate the realisation of individualised residential and living environments. Clarity and expansiveness form the essence of the lifestyle in the apartments: The wide window fronts permit light to flood into the rooms. One detail with particular finesse – the rounded windows areas at the corners of the building. Inside and out the dweller will enjoy unparalleled views of the neighbouring historical buildings such as the Crown Princes' Palace, the reconstructed Commander's House and the Berlin Cathedral as well as of Schlossplatz on the opposite site of the River Spree, where the newly constructed Berlin City Palace is estimated to open in 2019 as the significant new landmark of the city.

For the penthouse apartment it is also possible to choose a pool variant on the penthouse floor. The ground floor offers a compact business unit.
Facts and figures
• modern window design featuring extra large,
floor-length windows in an interplay with light-
coloured elements in natural stone
• wood/aluminium windows, some in an elaborate
arched design
• entrance onto Falkoniergasse
• 4 or 6 freehold apartments with total floor space
of 151 to 433 sqm
• commercial use on the ground floor approved
• penthouse apartment with rooftop terrace and
pool on the penthouse floor
• all apartments have balconies and/or terraces
• flexible layouts and well-lit, spacios rooms,
generally with floor-length windows
• wall coverings, stucco cornicing and open
fireplaces in some rooms
• parquet floors in rooms and halls, underfloor
heating
• building automation system
• 13 car parking bays in the two-level underground
garage, additional enclosed security parking area
• easy parking thanks to extra large bays
• KfW Efficiency House 70 (energy-plus building),
connected to district heating supply
• Demand-oriented energy pass: total energy
demand residential 81 kWh/(m²a) and
commercial 136kWh/(m²a), district heating
(temporary data)
• cooling system and controlled ventilation with
thermal energy recovery
• capacity to cut out electric smog in
sleeping areas
• video intercom system
• added burglary protection provided by resistance
class 2 (WK 2) and class 3 (WK 3) in the relevant
areas
• burglar alarm, smoke/fire detectors
• Falkoniergasse closed at night with access then
for residents only
• Quality assurance: The entire construction phase
will be monitored by quality assurance experts.
They are set to perform a series of tests and
measurements, including ambient air
measurements, blower-door tests, thermal image
testing of the façades and sound insulation
measurements.